Video content now makes a substantial percentage of online traffic at 74%, and is projected to increase to 85% by the end of the decade. Now your video is finished though: what do you do with it?
Here are 3 suggestions to get the best out of your video content and drive some serious traffic.
Thunderclap
Crowdsource technology is a force to be reckoned with. Around 85% of the Best Global Brands have used it in some capacity since 2004, and this type of mass collaboration is a distinct weapon of choice for marketing video content.
Thunderclap places their own unique spin on the idea. Coined a 'crowdspeaking' platform, users pledge their reach and influence sphere to promote your cause. Once the campaign reaches its goal number of supporters, the message is then blasted out on mass.
The platform has reached over 15 million people and boasts testimonials from the likes of Barrack Obama, Lady Gaga, and the NBA. This is perfect for a video launch and increases the chance of becoming a trending topic.
Who was successful?
The Royal College of Occupational Therapists came up with the idea of creating an interactive video to show life with-and-without an occupational therapist. The results of the 'Living, Not Existing' campaign were stunning.  Not only did they far exceed their pledge number by over 13x, they managed to reach a whopping 500k people.
Check out Fred's story.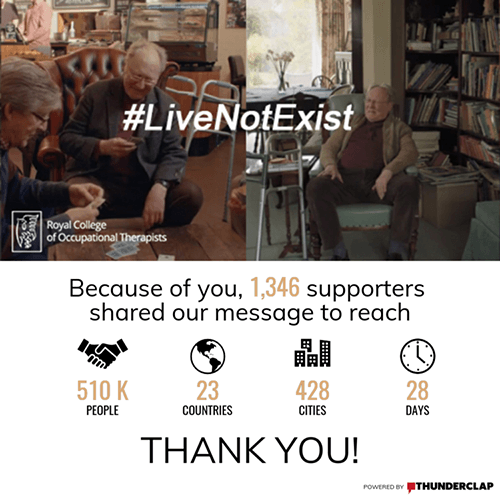 Perfect for: charities, social causes, start-ups
Facebook Ads
You've probably all heard, or used, Facebook Ads. It does seem to have a type of Marmite appeal though.
Facebook uses a primarily visual framework which makes it perfect for video. However, there is a common misconception that Facebook Ads are expensive for the % of conversions. Of course, this is a risk, but points more to a failed strategy than the Ads function itself.
Social advertising on Facebook [and other social platforms] is still cheaper than the likes of Adwords and allows for very simple audience segmentation and keyword utilisation. It also has a distinct advantage over traditional marketing due to big data. The metrics gained from Insights are a powerful tool that makes it much easier to quantify ROI, and finally prove your content works.
With the average CPM (cost-per-thousand-impressions) at £3.84 in 2017, and 2 billion potential users are at your fingertips: why wouldn't you?
Who was successful?
In terms of video ads, LG USA mobile nail it on the head. Short, funny, and informative – all without being in your face. Married with distinct hashtags and a low-key CTA (call-to-action), LG convey their USP with class.
Millions of Americans suffer from #LowBatteryAnxiety, but luckily, there's hope: http://bit.ly/1QKRP4N #LGG5 #RemovableBatteryThe LG G5's modular design makes swapping out batteries (and solving your Low Battery Anxiety) a snap.

Posted by LG USA Mobile on Monday, March 21, 2016
Perfect for: brands, e-commerce
Content Partnerships
One of the biggest trends of the past few years has been content partnerships. Teaming up with different brands to offer compelling collaborations has become a staple marketing strategy that has garnered huge appeal. 
Everything from brand specific projects like Jungle Creations + Oreo to b2b twitter beef, content partnership can be used as an innovative alternative to increase brand awareness. This usually takes planning beforehand, and may not be best already existing video content. However, even a simple agreement with another business to share content has immense benefits. Not only does it activate additional distribution and boost company relations, it pushes you to think of more creative ways to target their audience.
Who was successful?
Some shameless plugging here.
Muckle Hen recently created video content for Emirates + Spotify, showcasing the folk-rock scene in Glasgow. The video itself is not yet available, but keep your eyes peeled for what is primed to be an awesome campaign.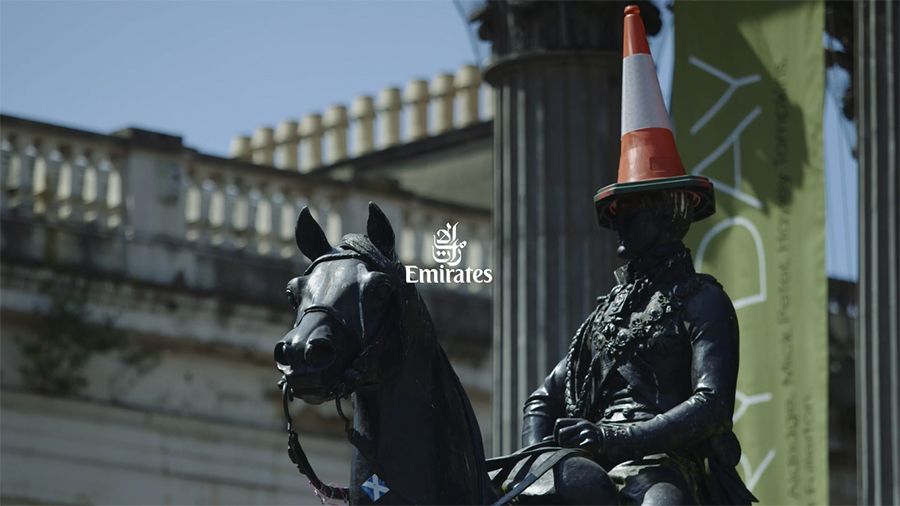 Perfect for: everyone
As video becomes increasingly more popular and diverse, so too will the ways in which it can be distributed. The fact people engage more, learn more, and enjoy more video, means it won't slow down anytime soon.
It's also becoming much more affordable and accessible for local businesses to invest in video content. Interested?