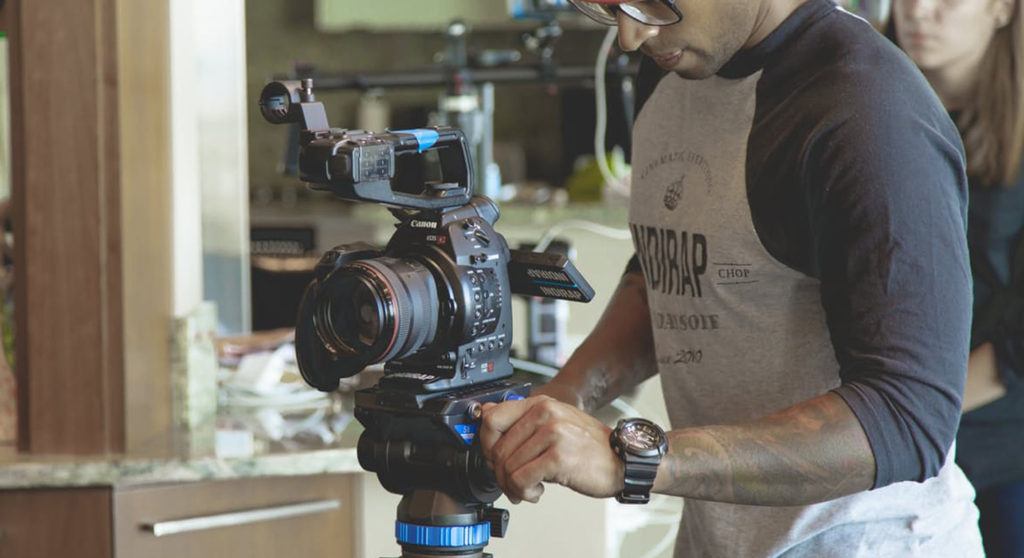 Let's move swiftly away from 2016, and on to 2017; a year with just as much uncertainty and confusion. In previous years it has been much easier to predict what is likely to happen in the world of film and video production, so that's why it's best to state this disclaimer early. Come prediction list 2018 this could be horribly wrong. Now you've had your pinch of salt, let's begin.
Snapchat will emerge as a dominating force in film marketing
Snap Inc. is the wonder kid in social media these days. A storytelling giant that has made even vertical film-making cool. Having recently turned down a £3 billion takeover from Facebook, (perhaps someone feels a bit threatened) Snapchat is set for a big year. Firstly, they announced they will begin IPO (Initial Public Offering) this year, which is sure to see a host of investment. Then they announced they plan to open their first headquarters. Interestingly they spurned their home nation for the UK stating 'they believed in our creative industry.' With multiple media outlets now creating a near constant stream of content on their app; and the addition of paid ads, Snapchat is proving to be a devil at monetising its product.
However, hell hath no fury like a Zuckerberg scorned. With no real competition on the market for their service, it has been plain sailing for Snap Inc. This could change though with Instagram's stories. Early reports are that Instagram is gaining ground on Snapchat (story vs. story) in terms of users. My thoughts? Brand loyalty will prove too much for Instagram.
The UK creative sector will finally be taken seriously
Great Britain has a long history of being an import nation. The very definition of colonialism was to extract resources for use back home. But this isn't a history lesson. It does raise the question though. Why then do we not value our own home-grown products as a great global resource? To paraphrase Hugh Grant: from Shakespeare to Harry Potter, our greatest strength lies in our cultural output. Could this then be the year May recognises the Department for Culture, Media and Sport as a pillar of our economy – and not the derogatorily, Hunt coined, 'Ministry of Fun.'
Many of you reading this, cynically frowning at the thought of Theresa May saving the arts, might first want to read Guardian editor John Kampfner's article on the issue.
Doesn't it make sense that in a difficult period of post-Brexit transition, the arts could be an easy win? Look at huge non-EU projects, such as Marvel's mega-blockbuster Avenger's Infinity War hitting our shores in 2017, for affirmation. There are political brownie points here ready to be reaped by the bucket load. That's not even including the impact of industry crossover. Does Snapchat, and their aforementioned UKHQ, not come under this category too?
If the Conservative government had any sense, they would take this chance to re-brand Britain as the cultural leader it already is.
Live Streaming: The Road to War
For any reader familiar with Ben Elton's 'Blind Faith', we are very much heading towards the same public existence portrayed in his dystopic world. Live streaming had a big year in 2o16 but is set for an even bigger year in 2017. The online gaming sphere has long been exploiting this new technology. Their most affluent advocate Youtube Star Pewdipie, raked in a whopping £15 million last year, and the new media sharks are now circling.
Twitter have been leading the pack for several years with their entire business model centred around live events. With last year's acquisition of Periscope, Twitter were firm favourites to win the war before it had even begun. Then came Facebook Live. And of course, the American Presidential Election. Facebook teamed with ABC to stream the entire debate to a 55 million-strong audience, placing their service firmly on the map. By integrating it with Facebook from the beginning it feels as if they have left Twitter in their dust. Periscope and Twitter are now fully integrated; however, it seems too little, too late.
Who can forget our old friend Snapchat. Their live stories service takes the immediacy element of Twitter and fuses it with much needed visual storytelling. What is most important though is that big brands are interested. Very interested. If they can get monetise this aspect quickly, they could quickly dominate the market.
With Netflix also hinting at live streamed events like TEDx, and even local businesses like Channel 7A offering access to live performances and gigs, the potential for this technology could be endless.
The big question: is it a craze, or is it here to stay? I guess we'll find out.
Blockchain will change how we make films
As our lives become more and more public, the need for security becomes even more in demand. Blockchain technology seems to be the answer to this problem. Using the same process as the revolutionary Bitcoin, Blockchain allows peer-to-peer transaction without the need for third parties. The other benefit of course is it creates a digital, decentralised ledger of every transaction made. It is set to completely change how our economy operates, and will result in the decimation of many intermediary industries.
But how will this affect video production? That much is uncertain at this moment. One can speculate though. For a start, recorded transactions mean copyright could become a thing of the past as artistic origin is definitive. A decentralised database could do away with complex monetary award systems, and give more authority to filmmakers rather than large, production conglomerates. It could also allow teams around the world to collaborate on projects by safely sharing assets. This is just the tip of the iceberg of a technology that is certain to change how we live.
Two extra predictions for 2017
Diversity will be the big winner at this year's Oscars. After a 2-year backlash, the Academy need a landmark year.  If Moonlight loses out to La La Land in both Best Director or Best Film categories, expect a boycott in 2018.
4K will overtake HD across the board. The option for 4K is already available on both Youtube and Vimeo but this is the year it will pop.
Let us know your thoughts in the comments below.
Follow us on Facebook, Twitter, and Linked In for everything film, animation, and tech.